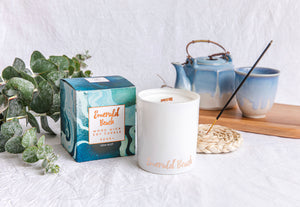 Sand & Soul Soy Candle
Sale price Price $37.00 Regular price $0.00
This fragrance is the exotic and intriguing combination of ancient fragrances, combined with a warm creamy aroma, with a base of cinnamon, clove and additional notes of black tea and vanilla bean.
This candle is by far, our most laid back and relaxing fragrance, that is guaranteed to help soothe your soul.
All of our candles are carefully handcrafted using high quality wooden wicks for a unique burning experience. Our candle packaging displays the incredible artwork from world renowned Australian artist Mitch Gobel.
Approx. burn time is 50Hr +/-